1 : Addis Ababa, Ethiopia, 2010
(extracts)
- "In november 2010, during three weeks, I was invited to an artist in residency program, in Addis Ababa. I tried to concentrate on mutations in the architecture. The point for me was not only to photograph the architecture but also to capture visible signs of change and the frenetic speed in which the city is evolving. In my photographs I am questioning what we are keeping from the past and what we are building for the future. This specific project called Body and soul is a discussion between photography, music and sound. I had the chance to build this short but very exiting live experience with Nubian Arc, the well known Ethiopian jazz band. The most important thing here, is to try to feel the invisible links between what is material and immaterial,  between what is visible and invisible - in a more abstract way, the bridges between body and soul." (…)
Addis Foto Fest 2010
December 7, 2010, Opening ceremony, Addis Ababa, Ethiopia.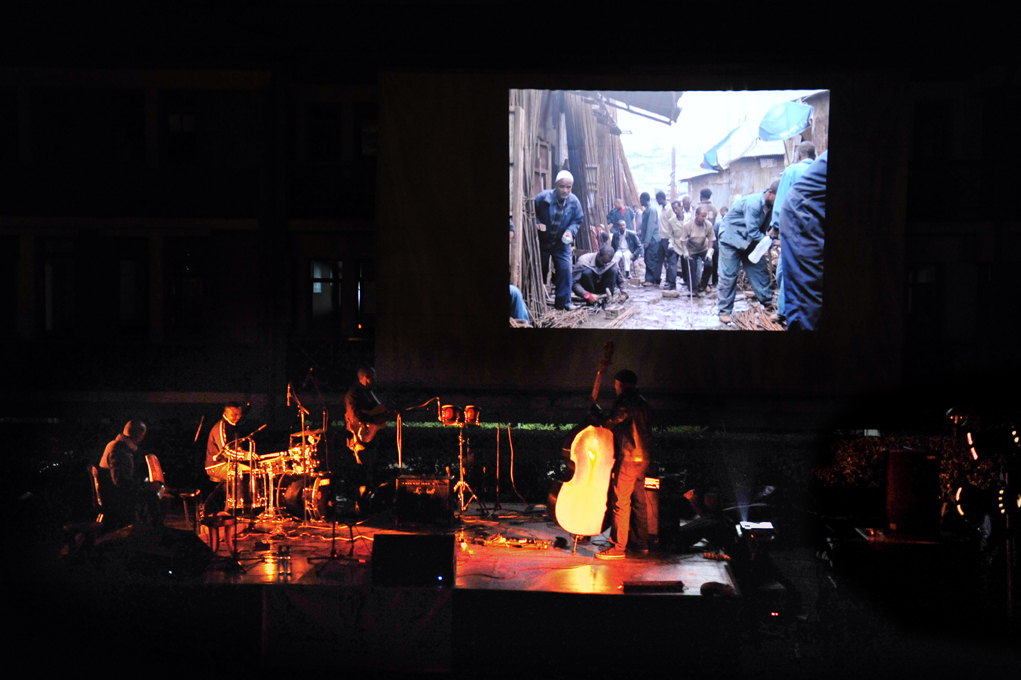 Residence de création, Addis Foto Fest 2011, Addis Ababa, Ethiopie, Novembre-Décembre 2010
- "L'intérêt de la discussion entre la musique et la photographie repose sur une tentative d'équilibre, l'un l'accompagnant l'autre sans le dominer, sans l'illustrer, avec un langage différent mais un discours commun."(...)
- "There is a delicate balance between music and photography. One accompany each other : neither one becoming dominant. Nor do they illustrate each over but are bound together." (...)
December 7, 2010, Addis Foto Fest 2010, Opening ceremony, Addis Ababa, Ethiopia.
1 : L'ENVOL (20'18'')
Film, Yo-Yo Gonthier, sound design Corsin Vogel. Experimental documentary, Black and white, 35 mm, analog, 20'16", 2010, France.
L'ENVOL : December 7, 2010, Opening ceremony, Addis Foto Fest 2010, Addis Ababa, Ethiopia.

- La projection (de L'envol) de Yo-Yo Gonthier nous ramène en Seine-Saint-Denis, pour un reportage très poétique sur la construction d'un astronef (sorte de zeppelin antique à la Jules Verne ou à la Léonard de Vinci menée par un groupe d'adolescents, (...) Une ballade onirique, rythmée par des portraits en N&B tout en introspection… Lire l'article de Laurent Lafuma ici :

2 :  BODY AND SOUL (13'18'')
Discussion between the photographic work of Yo-Yo Gonthier made during his two weeks residency program in Addis Ababa  and a musical performance of Nubian Arc and Yo-Yo Gonthier, just before the opening ceremony of Addis Foto Fest.
 BODY AND SOUL, projection and live music performance, (extract 1, part 2 : 3'45'') 
- The film changes in the second part. In the streets of Addis a balance is set up between the old districts and their small businesses. The images seem harmonious at the beginning, since the transformation begins. The music was intended to be an encounter between the ethiopian jazz which draws from many sources and influences and my own investigations as a harmonica player into breathing and contemplating.
- La seconde partie est une transition, dans les rue d'Addis un équilibre se dégage dans les anciens quartiers historiques et leurs petits commerces, peu à peu la tranformation commence. La musique devait être une rencontre entre un jazz éthiopien déjà bien métissé et mes investigations d'harmoniciste sur le souffle et la contemplation (...)
BODY AND SOUL, photographic projection and live music performance (extract 2, part 4, 3'20'')
- The fourth part evokes the excitement and euphoria of triumphant modernism, of capitalism, of progress, speed and consumption. I am personally fascinated and critical at the same time. Nothing is made to last and we are all too rapidly loosing our link with land and and the natural rhythm, without planning for the future. The film loop back to the beginning in a landscape (the Rift Valley triptyk) which is the sole work taken from outside of Addis, near the Rift Valley where a lifstyle can be found seemingly unaffected by the change in the capital. We intended the music here to be modern and fast. 
- La quatrième partie c'est l'excitation et l'euphorie du modernisme triomphant, le capitalisme, le progrès, la vitesse, la consommation. Pour moi il y a la fascination mais aussi la critique, rien n'est fait pour durer et l'on perd le lien avec la terre et les rythmes naturels trop rapidement, sans réellement anticiper l'avenir. Ici la boucle avec la première partie se produit avec un triptyque qui est la seule échappée en dehors d'Addis dans la Rift Valley ou certains modes de vie semblent ne pas avoir subi l'influence de la capitale. La musique devait ici être moderne et rapide. (...)
3:  IDENTITY VS CHANGE (6'43'')
Worshop directed by Yo-Yo Gonthier with the ethiopian artist Meherit Kabede. Photography by Yo-Yo Gonthier and Helen Zeru. Sound editing Henock Getachew. Meherit Kabede do a performance in the streets of Addis exchanging new shoelaces with the old ones.
- "The excellent reception of Meheret's and Yo-Yo Gonthier's work is an example of how AFF served as an amazing opportunity for both local and international photographer's to gain recognition and exposure". Read the article of Salima Punjani in the website Addis journal, December 16, 2010
4 AMBASSA (48'')
Workshop with one of Addis Ababa lions zoo's photographer Wondwossen Bogale. Short but amazing encounter, funny at the beginning but careful, the last picture is unbelievable !
See more infos on ADDIS FOTO FEST official blog

Yo-Yo Gonthier, Rift valley, triptyque, Ethiopia, 2010